Press Release
A press tour on the locust project was held in Kyrgyzstan
14 July 2022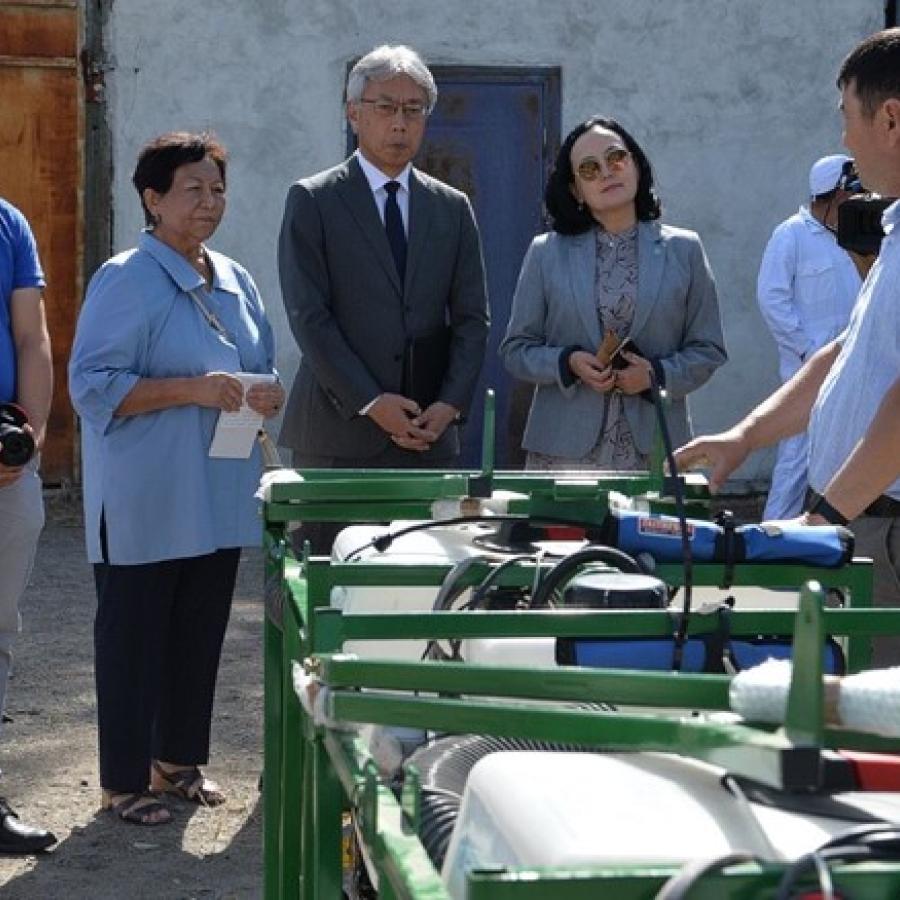 Every year, Kyrgyzstan, like the entire Central Asian region, is threatened by locust infestations, which do not spare anything on their way, reaching huge numbers of individuals in their population. Having no borders, locusts pose a significant threat food security, economic development, and human health.
Since 2015 FAO supports capacity strengthening of the Ministry of Agriculture by implementing projects with the financial support of the Government of Japan and Japan International Cooperation Agency (JICA), as part of the FAO "Programme to improve national and regional locust management in Caucasus and Central Asia (CCA)".
On July 6, a press tour to the fields was organized, which was attended by Mr. Maeda Shigeki, Ambassador Extraordinary and Plenipotentiary of Japan to the Kyrgyz Republic, Ms. Dinara Rakhmanova, AFAOR in Kyrgyzstan, Mr. Azamat Mukashev, Deputy Minister of Agriculture in the Kyrgyz Republic and Mr. Esentur Bektursun uulu, Representative from JICA.
The purpose of this tour was to present the results of the locust project, as well as to transfer equipment, training manuals and personal protective equipment to improve pest control by the Ministry of Agriculture, as part of the current phase 2 of the locust project.
"The project "phase 1" was signed during the official visit of former Prime Minister Abe to Central Asia in 2015, and was implemented in Kyrgyzstan, Tajikistan and Afghanistan. Now the "phase 2" expanded its target to all Central Asian countries and Afghanistan with the total amount of 7.5 Mil$, which demonstrates how much Japan puts a huge emphasis on food security of the region", - said in his welcoming speech Mr. Maeda Shigeki, Ambassador Extraordinary and Plenipotentiary of Japan to the Kyrgyz Republic.
Thanks to the constant and stable assistance to the Government of Kyrgyzstan from donors and technical support from FAO, which implements its Programme since 2011, locust outbreaks in the country have not been noticed for a very long time.
"The strengthening of human and operational capacities, with introduction of world-wide recognized best practices, are key to improve locust monitoring and control while limiting impact on human health and environment", - pointed Ms. Dinara Rakhmanova, AFAOR in Kyrgyzstan. "The project introduces an improved mechanism for responding to locust outbreaks, using less toxic pesticides and preparations for biological pest control. Efforts are aimed at ensuring food security and improving the well-being of the rural population of Kyrgyzstan by preventing threats and reducing damage from pest invasions." 
The results that were presented to the participants of the press tour show that the joint efforts of all project participants, new knowledge and advanced technology can timely prevent the most severe consequences and possible food crises that arise due to locusts around the world.
"It should be particularly noted that the timely and prompt execution of control measures by the Department of Chemicalization, Protection and Quarantine of Plants, with the support of FAO and respectful donors, helped prevent damage to agricultural crops, pastures and ensure food security of Kyrgyzstan", - said Deputy Minister of Agriculture of the Kyrgyz Republic, Mr. Azamat Mukashev.
UN entities involved in this initiative
FAO
Food and Agriculture Organization of the United Nations
Other entities involved in this initiative
JICA
Japan International Cooperation Agency