Honey Business 'Sweetens' Farmers' Incomes in Kyrgyzstan
WFP Kyrgyzstan invests in smallholders' bee farming businesses to help diversify their income generation opportunities.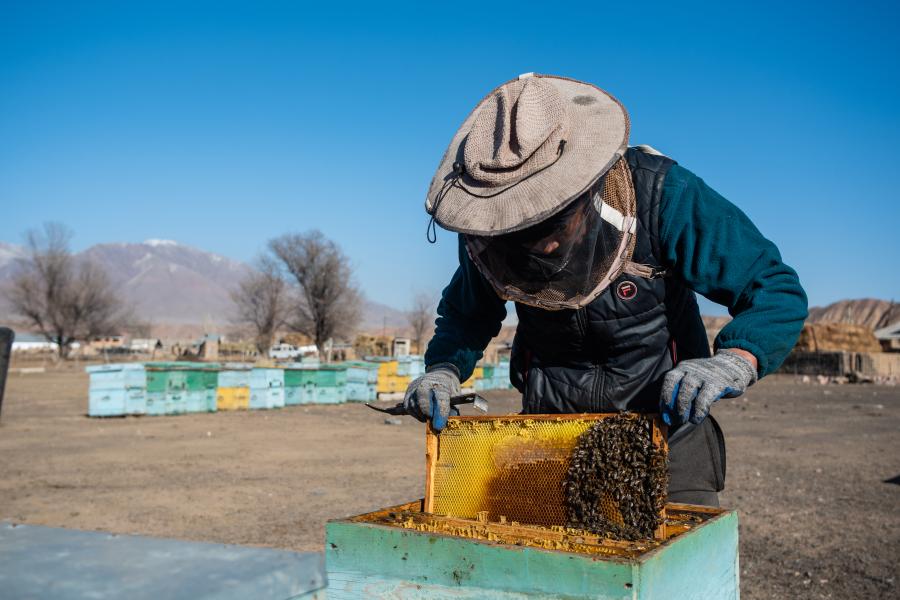 A dream of becoming a successful bee farmer who supplies his produce to all over the country have to turn into reality for Ryskulbek from Bash-Kuugandy village after he joined a WFP Food-for-Training project that assists vulnerable farmers to improve their livelihoods. Today he is a proud owner of a bee farm providing organic honey and honey products. 
In his village of Bash-Kuugandy, everyone calls Ryskulbek a 'bee master' because of his adjective honey and his name that has spread beyond his home where he has lived his entire life. A 30-year Ryskulbek first learned about beekeeping when he was helping a good friend tend to 11 beehives in his garden apiary. Ryskulbek remembers this experience as "truly magical" and "life-transforming" as he understood that bee farming would become his life-long passion.
With only passion in his heart and no perspectives to purchase beehives and supplies, Ryskulbek has been dreaming of his bee business for years until he learned about WFP's project that provides beekeeping training.
"When I first heard about the training on beekeeping, I thought that it would be a good opportunity to learn the craft and improve the nutrition of my family as we all know the health benefits honey has."
As part of its effort to support poor smallholders in Kyrgyzstan, WFP provides skills training to vulnerable farmers to help increase their income-generating opportunities and employment potential. Ryskulbek, has received beekeeping training to learn how to build an apiary, how to take care of bees and how to effectively store the honey. They also receive fortified wheat flour and vegetable oil to help meet their short-term food needs until the bees produce enough honey to make the farmers self-sufficient. WFP has provided training to 440 people since 2018.
After the training, Ryskulbek found hope that his life dream would materialize as he launched his own beekeeping business and started making a small profit to help support him and his family.
"I produce pure organic honey, which is hard to cultivate because it is made from the flowers of the sky-high mountains of this region," emphasized Ryskulbek.
As pure organic honey is so hard to produce, it is expensive. In one season Ryskulbek can earn 300,000 to 400,000 KGS (5,000 to 7,000 USD), something he wouldn't be even dreaming before. Thanks to its extremely high quality, Ryskulbek's honey has become famous in the region and he has regular buyers, not only from his village but from around the region also. In winter, when it's time to buy fuel, the coal sellers come and exchange it for honey.
The bee farming business proved to be high-value as all honey bi-products are usable and profitable. In addition to selling honey, Ryskulbek can also sell Propolis, royal jelly and pollen for a good price.
Not only has he noticed the financial benefits of having his own honey business, but there are health benefits too:
"Our family has stopped eating sugar. And now we are using only honey in everyday life. And have noticed better health. My mother says that her health has improved significantly since she started eating honey regularly"
Reflecting on his honey business, he said smilingly:
"I have been doing this business for 3 years now. I can provide for my family while doing the work that I like and able to eat healthy organic honey. Isn't it a perfect combination?"
"Honey is the only element in the world that cannot be artificially created and that it does not have an expiration date? I hope my business will never expire too!" he added.
UN entities involved in this initiative
Goals we are supporting through this initiative