Press Release
The celebration of World Food Day in Osh: "Our actions - are our future"
17 October 2021
During the agricultural fair, Osh city residents were given the opportunity to buy local produce and the opportunity to speak to a qualified expert on nutritious and healthy diets, which will help ordinary citizens understand how a food basket should look like.
"Even before COVID-19 shone a spotlight on the vulnerability of the world's agri-food systems, hundreds of millions of people worldwide were afflicted by hunger - and that number has increased in the last year up to 811 million. Despite the world producing sufficient food to feed all of us. This is unimaginable and unacceptable", - said Adnan Quereshi, FAO Representative in the Kyrgyz Republic. "At the same time, 14 percent of the food we produce is lost, and 17 percent is wasted. Combine this with other stressors — such as pests and diseases, natural disasters, loss of biodiversity and habitat destruction, and conflict — and you can see the magnitude of the challenge we face in meeting the world's growing food needs, while simultaneously reducing the environmental and climate impact of our agri-food systems".
The World Food Day raised public awareness on issues of food security and nutrition. UN agencies, together with the Government of the Kyrgyz Republic, have joined forces to organize a fair to not only support smallholder farmers, but also expand the horizons of agricultural production. This event in Osh united farmers from all regions of the country, including men, women and young producers, demonstrating that agriculture continues to be the main sector of employment for Kyrgyz citizens, without gender stereotypes.  Hence, draw the attention of the public on the transition to efficient, inclusive and sustainable agri-food systems.
"The World Food Programme, as the world's largest humanitarian organization and the Nobel Peace Prize winner in 2020, has worked tirelessly together with the Government and partners to build a pathway to stability, prosperity, development and mitigate the impact of economic and social shocks caused by issues such as climate change or the Covid-19 pandemic. We don't just deliver food, WFP enables the changes needed to ensure that no one is left behind in meeting their food needs. Our actions – are your future", -said Michael Huggins, the WFP Interim Country Director in the Kyrgyz Republic.
World Food Day, celebrated annually on October 16, was proclaimed in 1979 as a necessary measure to inform the population of the world's food problems that require immediate solutions. The countries around world had recognized the need to eradicate hunger from the planet and create conditions for the development of sustainable agriculture, which would be able to feed the world's population, as one of the most important tasks.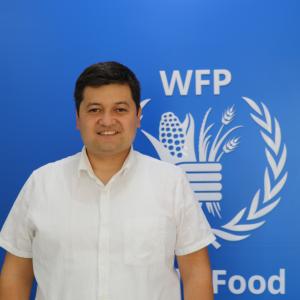 Almaz Tchoroev
WFP
Communications and Donor Relations Officer
UN entities involved in this initiative
FAO
Food and Agriculture Organization of the United Nations
IFAD
International Fund for Agricultural Development
UNDP
United Nations Development Programme