They Live With HIV and Fight to Save Others
How the UNDP / Global Fund is preventing, diagnosing and treating HIV within the LGBT community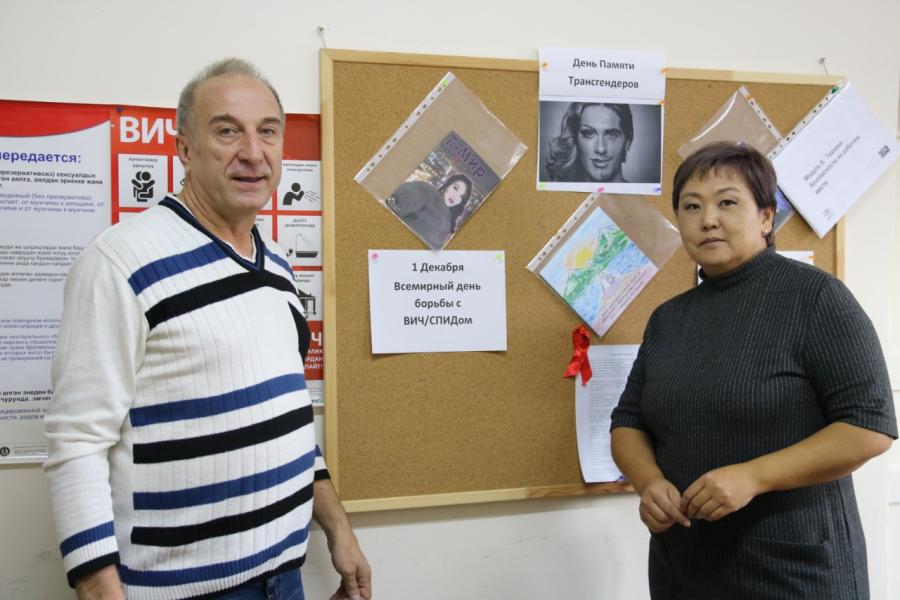 Under the Global Fund grant, the UNDP supports NGOs working to prevent HIV among key population groups and help people living with HIV. The AntiAIDS association is one of the leading NGOs fighting HIV in Kyrgyzstan. One of its projects, funded by the Global Fund, aims to decrease the spread of HIV and diagnose clients as early as possible among men who have sex with men and the transgender community.
From the outside of the one-story soviet building, cramped in between high constructions in Bishkek, no sign tells that these are the offices of the AntiAIDS association. It's only on the second door that the name of the NGO appears. This is one of several precautions taken to protect its workers and clients, who are sometimes threatened due to their sexual orientation.
Inside, the walls are decorated with posters on HIV. There are several cabinets where employees receive clients for consultations behind closed doors, to build trust.  The AntiAIDS association works with men who have sex with men and transgender people to prevent HIV in this highly affected community. The 26 outreach workers of the project provide information to clients on HIV, HIV diagnosis, and support throughout treatment. They also regularly give clients a minimal service package that includes condoms and lubricant.
The NGO works with around 3,500 people from the community. "On top of regularly educating clients, we test them for HIV at least once a year, more if they are at risk of having been infected," says Chynara Bakirova, executive director of the NGO. "Our clients get diagnosed very quickly and start treatment early on in the disease. Early treatment is very efficient." The association also tests people diagnosed with HIV for tuberculosis, and encourages clients to go see a doctor if they're at risk of having a sexually transmitted infection.
The quickest HIV diagnosis
The NGO uses rapid testing for HIV among the community. It's a very quick and painless way of checking one's HIV status. "We showed that the rapid test can be done in any conditions, and not only in a hospital cabinet," says Chynara Bakirova. Her association started implementing this diagnosis method in the country, in 2013. "It's a great field tool." Anonymous, it also avoids long waiting time for the results.
Chyngyz, outreach worker for the AntiAIDS association, remembers how scared he was when waiting for the results of his blood test for HIV. "It's better to know immediately. I had to wait almost two months. I tortured myself; I asked myself a million questions. It felt like I was bleeding inside."
Chyngyz is in his 40s, but by his clothes and gentle face, you would give him half his age. "When I learned I had HIV, I was shocked. I thought this was the end," he says, trying to hold back tears. "I wanted to kill myself. But I imagined my mother crying, and I couldn't do it." His dark look says that five years on, he is still struggling to accept his diagnosis.  "I always wanted to be an organ donor, but now even that I can't do," he says.
Chyngyz wishes that the world will find a cure for HIV. "I live with only one hope, that one day I'll wake up and I'll be able to say that I'm completely healthy," he says. Until then, Chyngiz is taking his treatment for HIV, which allows to control the infection, and feels well; he helps men in his community protectHIV and accept their diagnosis when needed.
The heavy weight of stigma
Chyngyz hasn't told a single person about his HIV status; his relatives, his friends and even his colleagues don't know he has HIV. His family is pressing him to get married: they also aren't aware of his sexual orientation.
Stigma against people living with HIV is a real barrier to end the epidemic in Kyrgyzstan. And the LGBT community suffers of double stigma due to their sexual orientation. Chyngiz has already been threatened just because he works for the AntiAIDS association.  
For Erjan, another outreach worker of the NGO, stigma and discrimination destroyed his family and completely shattered his life. Erjan raised his son alone after his first divorce. Later, he got married a second time, to a woman who had a daughter he took for his own. But he lost everything and everyone he had when he was diagnosed with HIV.
His new wife, who was six months pregnant, decided to get an abortion although doctors said the baby could be perfectly healthy. "I told her I would raise our child alone, but she didn't listen to me," says Erjan, tears rolling down his cheeks. She left him to the streets, keeping him from seeing her daughter. 
"I lived in a shelter. I was very depressed but I pulled through for my son. I did everything for him. It didn't matter if I didn't have any shoes to put on my feet, I always made sure that he had everything". 

Erjan, representative of MSM community
 "I lived in a shelter. I was very depressed but I pulled through for my son. I did everything for him. It didn't matter if I didn't have any shoes to put on my feet, I always made sure that he had everything," says Erjan.
When he told his father about his HIV infection that he got from a man, his dad was so shocked that he died of a heart attack immediately. But Erjan got back on his feet and kept being a role model for his 14 year-old son. Until last year, when someone publically revealed his status and sexual orientation: "I had to send my son to Russia to live with his mother, who never even cared about him. He can't continue going to school here, everyone shames him because of me."
"I miss my son so much, it's really hard," says Erjan. "But I promised him everything would be fine, so I try to hang on." The only thing that keeps Erjan going now is his work for the AntiAIDS association. He has a group of friends and clients that check up on each other, make sure they take their HIV treatment every day, and support one another. "I want to help others in my situation and make sure that they accept their diagnosis, receive treatment, and fall into depression."
Support as a way of life
HIV education and diagnosis is only part of the job done by AntiAIDS's outreach workers. They also bring important psychological support to all of their clients, including those diagnosed with HIV.
"When I learned I had HIV five years ago, I thought I wouldn't be able to work anymore or find a partner," says Artiom. He himself received support from the association, started treatment and understood that life doesn't end with HIV.
He's now working as an outreach worker for the AntiAIDS's association. "Now I want to dedicate my life to the LGBT and PLHIV communities. It's great to help," says Artiom. He sets himself as an example to get his clients on treatment and out of depression. Artiom adds: "You can live normally with HIV if you take treatment. The most important is not to lose hope."
All names of outreach workers were changed. The AntiAIDS association was created in 2003 as one of the first NGOs in Kyrgyzstan aimed at ending HIV. It also works with other groups of the population (people who inject drugs, sex workers, LGBT, migrants, youth, women and children) to prevent and treat HIV and TB. It is accredited by the global Frontline AIDS network and has been one of the sub-recipient of the Global Fund / UNDP grant since 2010. 
UN entities involved in this initiative
UNDP
United Nations Development Programme