Helping people in need
The COVID-19 pandemic has not bypassed Kyrgyzstan, a country in Central Asia with the population of 6 million.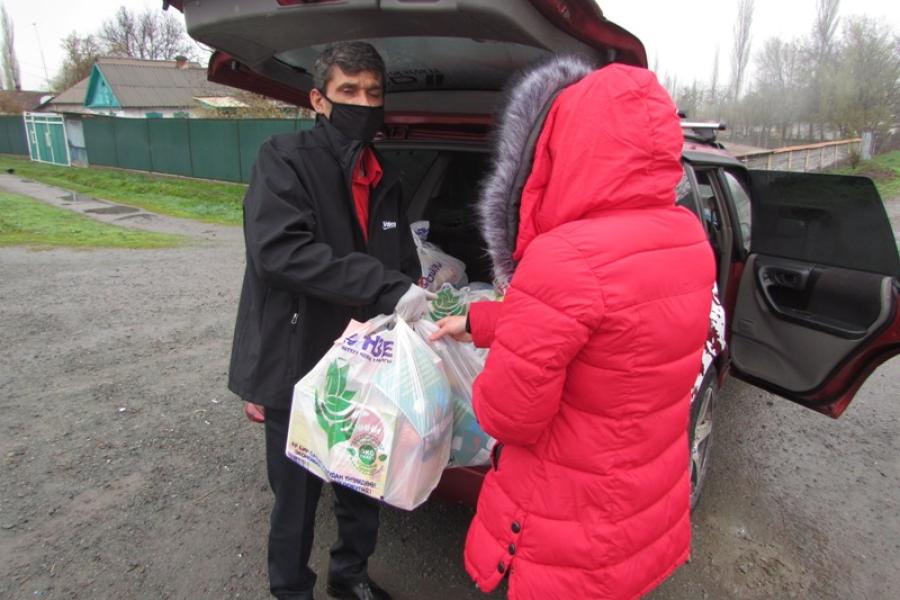 The total number of infected people in Kyrgyzstan reached 430 (14.04.2020) new cases were registered in the capital city Bishkek and almost in all major cities and provinces of the country.
Due to the situation with the coronavirus the state of emergency has been introduced since March 25 in  Bishkek, Osh, Jalal-Abad cities and three districts. Citizens of these areas are strictly forbidden to go out to the street during the curfew hours, i.e. from 8 pm to 7 am. At daytime, people are allowed to go out only to a shop, pharmacy or to a medical facility. One has to carry the passport and the route slip.
Communities of people living with HIV as well as other citizens of the country faced a variety of challenges, including the loss of daily earnings and the inability to feed their families.
In the small town of Karabalta in the northern Chui province of Kyrgyzstan, like in many other cities in the country, there are several HIV community organizations. The "Believe in Yourself" public foundation and the Country Network of Women Living with HIV are led by Mr. Umid Shukurov and Ms. Baktygul Shukurova  - community leaders and activists working on promoting community interests, the rights of women living with HIV, advocating for the access to treatment and other HIV services, community development and support to people from key populations. That is why today they cannot stand aside and try to help those badly in need. 
Mr. Umid Shukurov, Director of "Believe in Yourself" PF said that since the quarantine was announced in the country, people living with HIV started to appeal to the Foundation:
"Many people call us in despair, women cry and ask for help. Of course, we help in every way possible, but our resources are limited. When we, together with the Country Network of Women with HIV, compiled the lists, we realized that 12 women living in our city are in a distressful situation. Some of them have recently become mothers or are raising their children alone. Yesterday we distributed food packages and some women could not believe that someone had reached them and brought them some food. The asked me 'Is it real that someone has heard us?''
When we created this network, we thought we would face various problems, but we never thought the problems would be of this magnitude, says Ms. Baktygul Shukurova, director of the Country Network of Women Living with HIV: "Our task is to keep people on ARV therapy, so that none of our clients will ever stop taking medicines during the coronavirus pandemic. I have been through difficult situations in life myself and I know how difficult it can be when you simply have nothing to feed your children with. Only a person who has been through all this can understand the needs of communities. When you and your children have nothing to eat, you don't care about the medication."
At present there are 9,842 HIV-positive cases officially registered in Kyrgyzstan (cumulatively). There are 6,760 people living with HIV who undergo the therapy. 
The UNAIDS Country Office in Kyrgyzstan, with the support of the Russian Technical Assistance Programme for Eastern Europe and Central Asia in combating HIV/AIDS and other infectious diseases is organizing the delivery of food packages to 130 families of people living with HIV who are the most affected by loss of daily earnings within the next 3 months. Local family medicine centers have compiled lists of such families all over the country. The food packages will not cover all the needs, but supplement other social assistance available for people  living with HIV Kyrgyzstan. Apart form the regular food staff, the packages  contain special colouring books, marker pens and watercolor sets for children of PLHIV to minimize the mental consequences of quarantine. "We hope that this minimal assistance will enable people living with HIV to remain committed and not interrupt the therapy," – said Meerim Sarybaeva, UNAIDS representative in Kyrgyzstan. 
UN entities involved in this initiative
UNAIDS
Joint United Nations Programme on HIV/AIDS