Infection control and positive thinking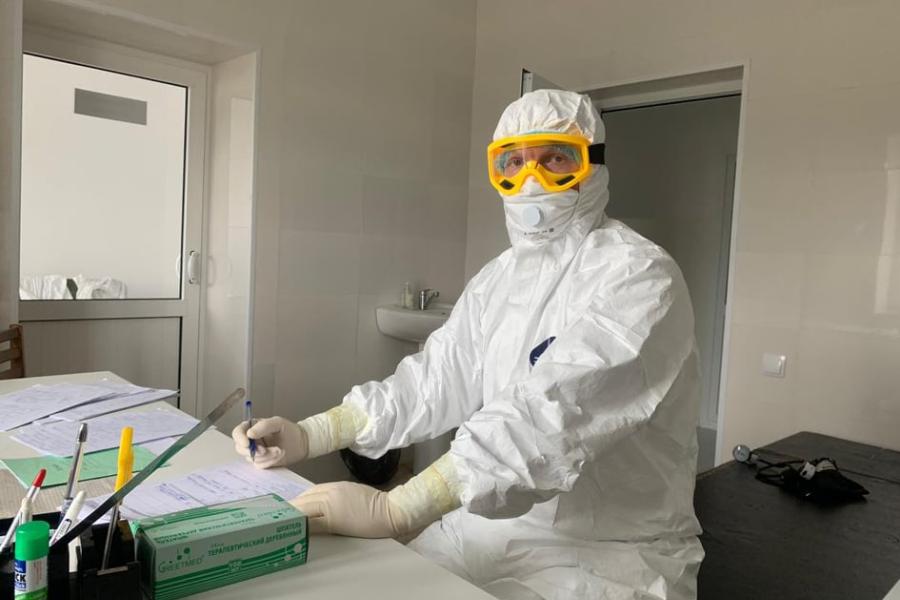 We had a chance to meet Mr. Alexei Kravtsov before his trip to Naryn city to better understand the situation with the infection control in local medical facilities. Mr. Alexei Kravtsov is an expert with the Ministry of Health's infectious disease control headquarters; he is an epidemiologist with vast experience and has been involved in fighting the Ebola virus in Africa. The Joint United Nations Program on HIV and AIDS (UNAIDS) is providing technical support to the expert in adapting the evaluation tool.
Alexei, you have just returned from a business trip to the southern region. Tell us what was the purpose of the trip? 
During the coronavirus pandemic, jointly with my colleagues we designed an infection control evaluation tool, which allows monitoring the activities aimed at ensuring protection and safety of health workers during various infections. It should be noted that this evaluation tool was not for wide use in hospitals. For us it was important to collect all the factors that led to the high COVID-19 incidence among medical staff in order to prevent similar situation in the future.
The reality is that to prevent the same situation in the future the health system should be proactive. What would you, as a person who has been working for a long time in the area of infection control, recommend to do now? 
In my opinion, after the pandemic, we must create a system that would ensure the safety of all health workers. The system can consist of several levels: national and local. It is already clear that we have faced such a situation for the first time and in some places mistakes were made. In many countries we observed the collapse of healthcare systems. We analyzed all the mistakes and now we know what are drawbacks which we should work on.
We collected some questions from our readers for this interview, one of the questions is: what to do if a person becomes afraid of going to medical facilities after the coronavirus pandemic? 
Obviously, there is a fear that me or my loved ones may become infected with coronavirus. It is normal to be afraid, but excess panic will not to do any good. I think that psychologists can work with people and people themselves should use verified information from official sources. There are some people who have to visit medical facilities and for them there are simple recommendations such as: keeping distance, wearing a mask in public places, using an antiseptic for disinfection of hands; these precautions can protect you and your family. There is no need to be afraid.
What would you recommend to our subscribers and readers after the quarantine measures are weakened?  
As soon as all quarantine measures are over, it should be clear to all that the infection will not disappear and the virus will remain among us. New cases will be registered, but not on such a large scale like now. A lot will depend on our responsibility. We have to keep an eye on our health. If you find signs of a respiratory disease with yourself or your dear ones, you have to see a doctor, you should not self-medicate and at the same time go to work or invite someone to visit being in such a state of health.  
Will it be safe to send children to kindergartens and schools? Do we have to permanently wear masks, disinfect hands and keep a distance between students? 
Definitely children can be sent to kindergartens and schools as soon as all restrictions are removed. Masks should only be worn in public places, there is no need to wear them all the time. As for hand washing, it is a good measure not only against the coronavirus. Look, as soon as people started washing their hands often and correctly, we observed a drastic decrease in intestinal infections. This practice needs to be supported.
Thank you for your answers, Alexei. It was interesting to talk to you. In conclusion, what would you wish to our subscribers and readers. 
Do not be discouraged and do not panic. Frustration can lead to a long-term depression, which is dangerous for the body and the immune system as well. We need to move on with our lives, work, studies and raise our children. The main thing here is to think positively. Positive emotions support our immune system and stand against many diseases. 
UN entities involved in this initiative
UNAIDS
Joint United Nations Programme on HIV/AIDS