Bringing social projection and agriculture together: how poor families in Kyrgyzstan withstand the COVID-19 crisis
An unprecedented public health emergency has baffled the entire world, reaching its most remote and isolated areas.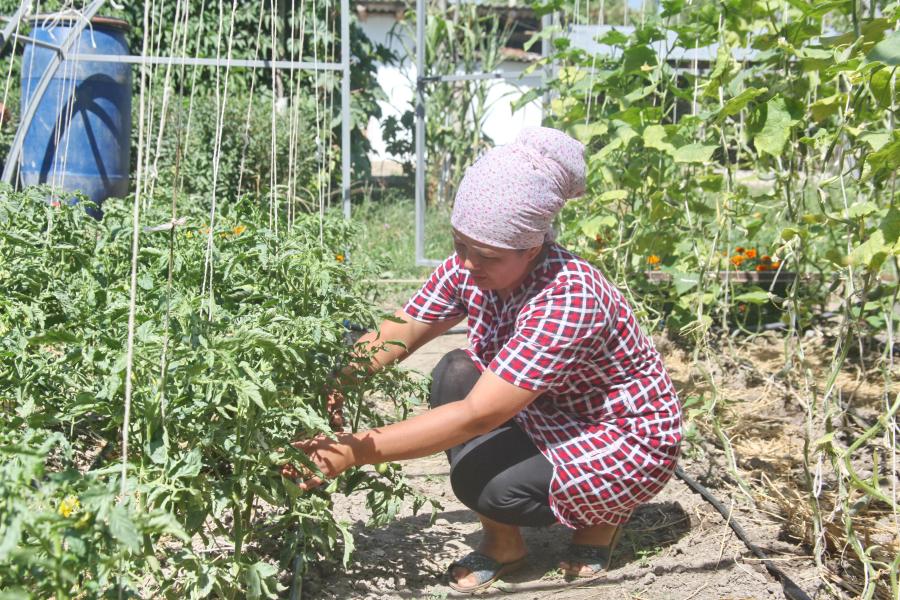 Photo | ©️FAO/UN in Kyrgyzstan/Vlad Ushakov
In a matter of days, a virus that knows no boundaries has put the whole world on a pause, making borders between countries close, slowing down international trade and disrupting food access. While it is too early to estimate all the consequences of the pandemic, measures to contain COVID-19 have already left their mark on global food security and agricultural production.
In Kyrgyzstan, where for a large part of the population agricultural production is the only source of food and income, the situation is not exceptional. It is, however, even more challenging for the rural poor, who, if the crisis goes on longer, may face food and nutrition insecurity and fail to break out of poverty due to the abruptly lost sources of livelihoods.
Countries have started to look around for innovative approaches to protect the rural poor, and a pathway to integrated support came from inside.
In 2017-2019, in the context of a global FAO project, funded by the Russian Federation, Kyrgyzstan explored ways to strengthen rural poor families and help them emerge out of poverty and food insecurity through integrating social protection and agriculture support.
This Cash+ support from earlier, combining social protection and agricultural assistance, in form of various agricultural inputs and knowledge through trainings, proved to be particularly helpful during the COVID-19 pandemic, making households more confident on their way through the crisis, and more resilient in their response to it.
The Cash+ pilots of the project "Developing capacity for strengthening food security and nutrition in selected countries of Caucasus and Central Asia", targeted the poorest regions of Suzak district in Kyrgyzstan. It has equipped beneficiaries of the national social cash transfer programmes with assets, knowledge and skills to increase their agricultural productivity and subsequently improve their food security and nutrition.
Anara Akmatova, a pilot beneficiary from Oktyabr village in Suzak district, recalls: "The state social benefit was not enough to feed our four children, myself and my husband even before the pandemic. My husband did some casual labour for neighbors to earn extra money. But he lost his income once the virus started to spread because everything was closed, and people were not allowed to go out. If we had to rely only on social cash transfer during the crises, we would definitely struggle to buy enough food".
Today, Anara, as well as more than 250 other families, comprising of more than 1,600 people, half of which are children, in these area in Kyrgyzstan, can manage their way through the consequences of the pandemic.
The Cash+ pilot project presented an approach to social protection that flexibly combined two complementary modes of intervention, namely national social cash transfer and productive assistance, in order to create synergies thus increasing their respective impacts on food and nutrition security, livelihoods and resilience of poor rural families.
"The pilot project provided us with greenhouses that allowed us to grow vegetables a couple of months earlier than in the open field," says Anara. "We also received seeds of nutrition-dense crops which we learned how to reseed, so I do not have to go out to purchase them. And most importantly, we were taught to safely preserve enough fruits and vegetables for winter. We still use our winter supplies."
Nowadays, the COVID-19 puts many vulnerable households dependent on agriculture under pressure. Restoring and supporting their livelihoods requires an integrated approach to protect income, prevent negative coping practices, and support production. And the experiences of the Cash+ pilots in Armenia and Kyrgyzstan vividly demonstrate how coordinated social protection and agricultural measures can support the rural poor and their communities through COVID-19 crisis in practice.
UN entities involved in this initiative
FAO
Food and Agriculture Organization of the United Nations