Teachers are introducing a methodology highlighting principles on gender equality and non-discrimination in school
UN Women is leading this work in frame of "Communities for Sustainable Peace" project, implemented with UNICEF, UNFPA, the Government and civil society.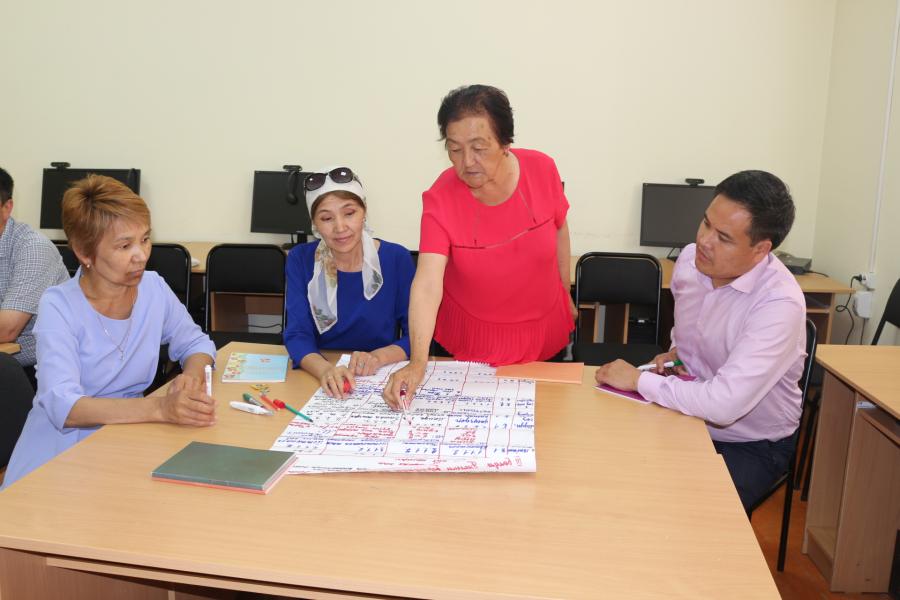 Forming civic competencies of a person- set of abilities, allowing citizens to realize their civic rights and duties in democratic society actively, effectively and responsibly- is at the core of the education development agenda. Educational standards, textbooks, teaching materials, together with teaching methods, play a crucial role in promoting and forming social and cultural norms. 
The education system faced a number of problems, such as: incompetence of teachers in the field of inclusion, tolerance and gender equality; depiction of stereotypical and intolerant content in teaching materials and lack of methodological experience of teachers on these issues. UN Women in partnership with the Foundation for the Support of Educational Initiatives in close cooperation with the Ministry of Education and Science of the Kyrgyz Republic are providing assistance in solving these issues. 
In frame of the project "Communities for Sustainable Peace" funded by UN PBF, training modules to formulate the school education policies through the prism of gender equality and non-discrimination were developed.  Based on these modules, series of trainings were conducted for employees of the education system that included representatives of the ministry, teacher training institutions, authors of textbooks and educational materials, as well as teachers. The feedback showed the great interest of all participants in considering gender equality and non-discrimination not only in school education, but in real life as well.
To respond to these challenges the project prepared an electronic educational platform "Gender Equality and Non-Discrimination" in both Kyrgyz and Russian languages, and conducted orientation training on using the online module by the staff of the teacher training institutions of the Kyrgyz Republic. The module is accessible via https://book.iuk.edu.kg/ru and included to the registry of teacher training programmes.
Bekmatova Shazada Shakirovna, methodologist of the Jalal-Abad Regional Methodological Center, who works with teachers on a continuing education program throughout the region. Shazada conducts teacher training courses in the whole Jalal-Abad region and annually conducts an analysis of the teachers' educational needs.
According to Shazada, at the moment the country's educational system is introducing State Standard of Secondary General Education, which ensures the formation of personal characteristics of students, and teachers are having difficulties in switching to new forms of education.
"Therefore, our center decided to develop programs that teach the culture of non-violence, mutual respect, gender justice and tolerance. And immediately after the introductory training, I decided to include the new educational resources in my program, "said Shazada.
She believes that it is very important to start talking with children about equality and social inclusion from an early age, so she restructured her usual program and worked with teachers on the topic "Gender Equality and Non-Discrimination " in education for several days.
Shazada used the methods and techniques learned at the training, held a master class on working with electronic resources and discussions on topics discussed in it. "I received very positive feedback," says Shazada. - The teachers thanked me and said that they would include conversations with children about equal opportunities for girls and boys, the forms of injustice that society struggles and cannot be tolerated in their lessons. Of course, this is not easy, because we have strong stereotypes in the society. But we decided to support each other on this. " They created a whatsapp group, where teachers exchange experiences, send short videos, photos of the most successful moments from lessons and extra-curricular activities dedicated to peacebuilding, promoting equality and tolerance. "The good news is that now you can get an answer to any questions on this topic, thanks to the online resource. It also discloses issues of legislation in this area, both by methodology and by assessment, "says Shazada.
UN Women is leading this work in frame of "Communities for Sustainable Peace" project, implemented together with UNICEF, UNFPA, in partnership with the government and civil society organizations. These activities contribute to achieving Sustainable Development Goal 4 (SDG), to ensure inclusive and equitable quality education, and SDG 5 to achieve gender equality and empower all women and girls.
UN entities involved in this initiative
UN Women
United Nations Entity for Gender Equality and the Empowerment of Women