The world is not ready to accept us, but we will break forth!
The "Rainbow Info Center" Public Foundation has been working for 13 years with people living with HIV and their family members.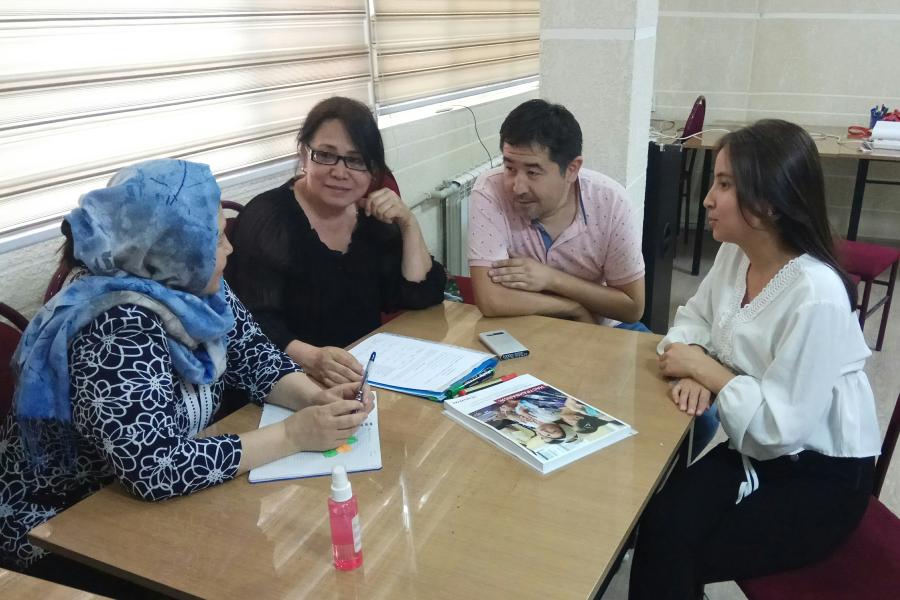 The first part of this statement is accepted by many teenagers living with HIV as well as their parents, relatives and representatives of civic organizations who for a long time have been working with this community group. The second part of the statement means great efforts which should be made by all those who want to help children "break forth" and succeed in their lives.
The "Rainbow Info Center" Public Foundation has been for 13 years working with people living with HIV and their family members. The Foundation helped mothers of HIV-positive children to cope with the grief that suddenly fell on their shoulders, organized self-help groups, offered psychological support, material assistance, beneficial loans and much more. The Fund has a youth center for children and teenagers living with HIV. The head of the Foundation Ms. Fatima Koshokova says:
"The Centre works with young people who are daily confronted with problems of coming of age, the misunderstanding on behalf the adults and the new reality which we all are in due to the coronavirus infection. Prior to the quarantine, we arranged activities to help teenagers develop communication skills and be successful on their path to socialization. Of course, the continuing epidemic of COVID-19 made adjustments to our work and currently many activities with children are online."  
The mentorship program implemented within the youth center allowed attracting volunteers who launched Russian and English language courses. Some of the volunteers became mentors for the children.
Sevara (name changed) dreams of becoming a journalist or an actress. Her mentor is Ms. Sahira Nazarova a journalist from Osh. Sahira teaches Sevara Russian language and journalism.
A young girl from a group of leaders named Asel (name changed) wants to become a Russian and Kyrgyz language teacher. In her village it is not possible to master and communicate in Russian well and neither any of her family members speaks Russian. Thanks to mentoring, the employees of the organization found a Russian teacher for Asel from faraway and sunny Italy. Asel's mentor is a young girl, a successful specialist in the fashion industry in Milan, she is much in demand. She helps Asel, who has the HIV status, make her dreams come true. In addition to Russian lessons, quite often they make virtual tours around Milan.
Rosa (name changed) dreams of becoming a cook, but even the closest family people do not believe in it. All the time she hears that with her disease most people will be afraid and will keep aloof. It is hard to dream when you are always grounded and the others do not believe in your dreams. One of our virtual coaches for Rosa, Ms. Anastasia Batura from Belarus, who is a producer and a coach, helps Rosa uncover her talents.   
This picture reflects Rosa's impressions of visiting a birch wood: "It was light there and the sky was blue. I was very happy and joyous. In the wood you forget about your diseases, you want to live and rejoice like these white birch trees". 
As we can see, despite their status, children dream and we can all possible to help them make their dreams a reality.
The work of the youth center with the "Rainbow Info Center" Public Foundation is supported by the Joint United Nations Program on HIV / AIDS (UNAIDS) within the framework of the Russian program of technical assistance to countries of Eastern Europe and Central Asia in combating HIV/AIDS and other infectious diseases. The Center's activities cover 55 teenagers living with HIV.
By Fatima Koshokova, The head of the "Rainbow Info Center" Public Foundation
UN entities involved in this initiative
UNAIDS
Joint United Nations Programme on HIV/AIDS