Kyrgyzstan: COVID-19 response | DRCU Update August 21
The Government established in January 2020 a special stab (coordination center) under the Prime Minister. The Republican Shtab supported by two shtabs on health and socio-economic response. The Republican stab consists of all line ministries responsible for COVID-19 response. To develop proposals for implementation of measures aimed at attracting external assistance to overcome the impact of COVID-19 on the economy, the Government of the Kyrgyz Republic established expert working groups in the four areas.
The Ministry of Emergency Situations of the Kyrgyz Republic (MoES) is the operational branch for the Government's Republican stab to coordinate all kinds of emergencies. MoES operates in collaboration with other line ministries, the territorial government bodies, local authorities, international and non-governmental organizations, directly and through subordinate bodies.
Even before the first COVID-19 cases were recorded, the Government has taken a number of measures to mitigate the spread of the disease. Following the confirmation of the first confirmed cases, the Government of the Kyrgyz Republic introduced a state of emergency in the country from 22 March 2020.
On 16 March 2020 Government requested activation of Disaster Response Coordination Unit (DRCU) Council. In small and medium scale emergencies, DRCU takes the responsibility to coordinate and plan the multisector response. Under the leadership of the UN Resident Coordinator the international humanitarian community in the Republic of Kyrgyzstan has established DRCU, which comprises the heads of the UN agencies, Red Cross/Red Crescent movement, international organizations and NGOs. UN OCHA National Disaster Response Advisor supports DRCU as Secretariat, DRCU is a consultative-deliberative mechanism whose main purpose is to coordinate humanitarian response to emergencies welcomed and/or upon the Kyrgyz Government relevant request and enhance collaboration among DRCU partners and other key actors.
On May 2020 Government endorsed Response and Recovery Plan and on 20 June Vice Prime Minister Ismailova sign it.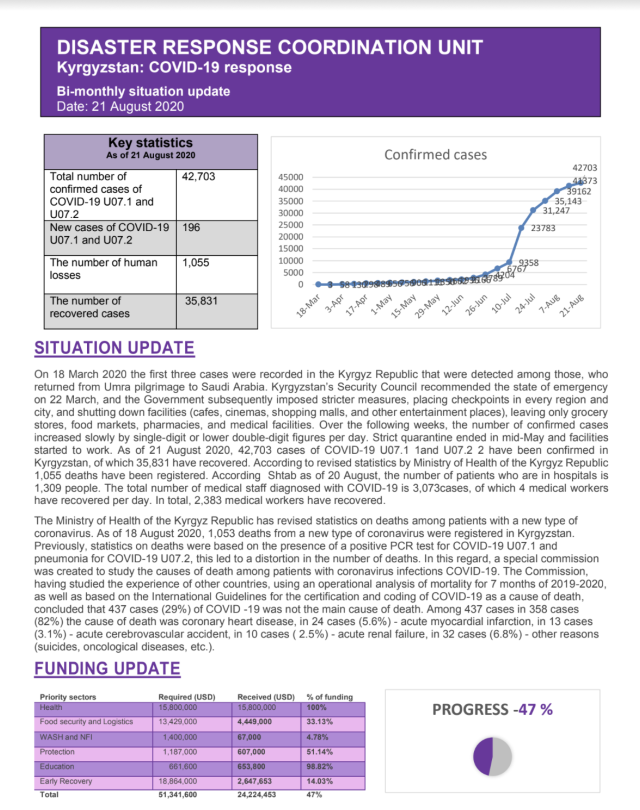 Goals we are supporting through this initiative