Interactive TV series about HIV launched in Kyrgyzstan
The series shows how strong of spirit, honest and true to themselves young people can overcome ignorance, cruelty and inspire those around them.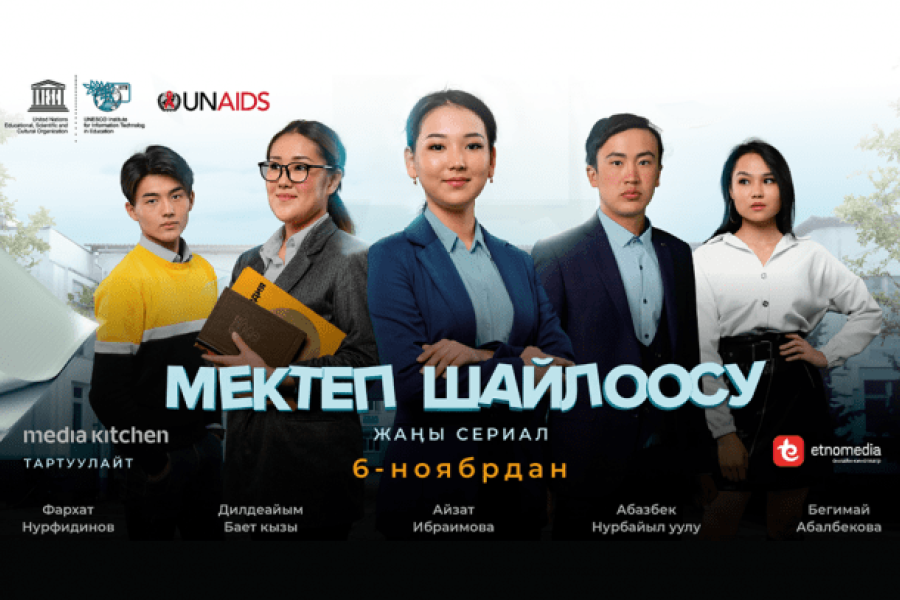 A new television series for young people in the Kyrgyz language, School Elections, was launched online last week. During six 15–20-minute episodes, a girl, Ayana, who is living with HIV, tells her story of bullying, friendship and the fight for human dignity. The producers of the series hope that Ayana's example will give hope to young people who face similar challenges.
"We have a simple idea to promote: you may differ from others in your health, appearance or level of wealth. But regardless of this, we all deserve respect, friendship, love and happiness. This series is about kindness and acceptance of others as they are," said Azim Azimov, Head of Production at the Media Kitchen production studio and the main screenwriter of the series.
Starting on 6 November, new episodes will be aired weekly on YouTube and will also be broadcast on television, Instagram and the teens.kg youth project website. Additionally, each series has one to three interactive episodes—the leading actors invite the viewers to look at the problems raised in the series through the viewers' eyes, experience each situation for themselves and make their own decisions.
According to the United Nations Educational, Scientific and Cultural Organization (UNESCO), more than 30% of students around the world experience various forms of bullying at the hands of their classmates. Students who are perceived as "different" are often subjected to bullying for reasons of appearance, health status, including HIV status, sexual orientation and gender identity, social status or the economic situation of the family.
"This series tells people about the complex issue in simple and understandable language, to show how strong-willed and honest young people can overcome ignorance, indifference, cruelty and injustice, inspire others and change life for the better," said Tigran Yepoyan, UNESCO Regional Adviser on HIV, Education and Health.
"This series is a powerful new instrument for reducing stigma in our society, it not only shows the difficulties of living with HIV, discrimination and bullying but also motivates our adolescents not to be afraid to fight for dignity and justice and move forward towards their dreams," said Meerim Sarybaeva, UNAIDS Country Director for Kyrgyzstan.
The official soundtrack of the series, which was supported by the UNESCO Institute for Information Technologies in Education and UNAIDS, was performed by the singer Ayim Ayilchieva.
UN entities involved in this initiative
UNAIDS
Joint United Nations Programme on HIV/AIDS
UNESCO
United Nations Educational, Scientific and Cultural Organization
Goals we are supporting through this initiative