Speech
RC Speech at International Migrants Day
On 16 December 2021, IOM held an event to celebrate International Migrant Day and discuss a wide range dimensions of issues pertaining to migration.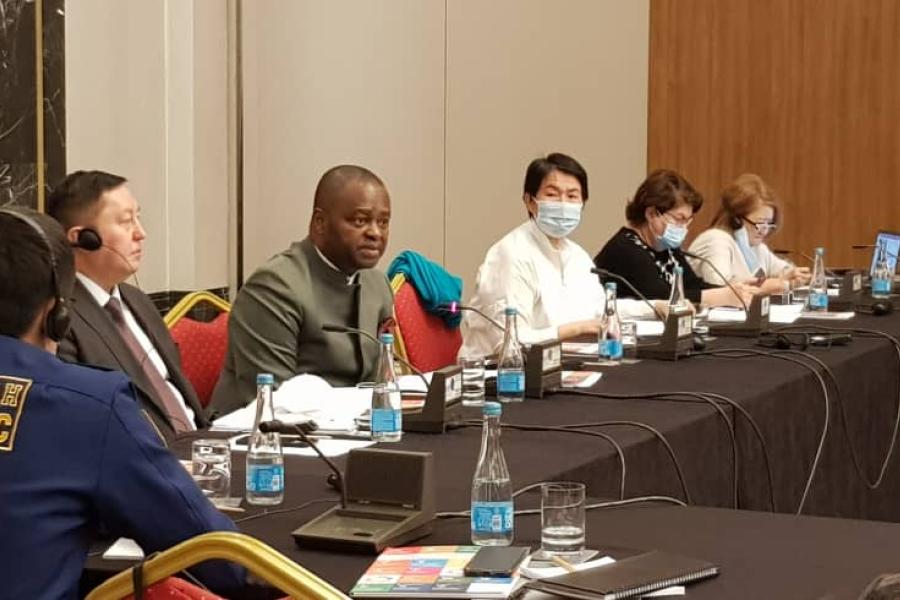 Dear colleagues from different government institutions and civil society.
My colleagues and friends from the United Nations system, heads of agencies, heads of offices.
Ladies and gentlemen, good morning.
Please let me congratulate all of us and all Kyrgyz migrants in different parts of the world on the celebration of the International Migrants Day.
This is the day that allows us to celebrate the great contribution the Kyrgyz migrants, as well as the migrants in Kyrgyzstan have made toward the sustainable development of the Kyrgyz Republic.
We know that in every fourth Kyrgyz household, one or more family members become migrants. One of the main push factors as to why they leave abroad is the issues of high unemployment, low salaries, lack of opportunities. As a result, we have about 750,000 of our citizens abroad. These are men and women, and most of them are youth, who have taken this opportunity because they are looking for better livelihoods and better opportunities for themselves and their families.
So, it is not a rocket science, if we all work together to create decent work opportunities at home, we can keep our educated migrants, but also can tap into the human capital that they represent. Yet, at the same time we know that the migration is also an opportunity for the growth of a country, when it is well-managed and leveraged.
We know that our migrants and their contributions to our economic development and growth is very significant. We know that our economy is heavily reliant on remittances, which account to almost 30% of the country's GDP. What it does is it decreases poverty in our communities, it offers children opportunities for education, it helps with the provision of social services and in reconstruction of homes and better standards of lives for family members, because other members of the family are the migrants abroad and sending money home. We saw this evidenced particularly last year at the height of the COVID-19 pandemic. Without the support that the migrants provided, the difficulties for many families in the Kyrgyz Republic would have been much worse. But through the support of migrants, many kept out of poverty, even when there were no jobs, nor opportunities back home. This challenges us, as the director from the Ministry has said, to find ways and strengthen our mechanisms to support the migrants' rights, but also ensure their safety throughout that migration journey – from origin countries, through migration corridors, to the destination countries – this should be a clear priority for all of us.
We all know that the migrants are not just money that they send and that counts. They bring new skills, they bring knowledge, and they bring experience back to their home countries, and you cannot put a price on all that they bring. If we provide returned migrants with rehabilitation and reintegration support and with opportunities to apply their skills and knowledge for the socio-economic development of their communities and country, we all benefit from it.
For my colleagues in the UN system and myself, as we are developing our new five year program from 2023 to 2027, one of the key stakeholders we want to target with our program are migrants and want to do a roadshow, where we will be presenting our ideas to them through the migrant associations in Russia, Kazakhstan and Turkey, because we want them to be our crucial partners with us as we develop our five year program.
Kyrgyz diaspora is certainly another significant contributor to the country's development and has a potential to bring innovation and resources. Diasporas contribute significantly to the remediation of the impact of COVID-19. They are aiding migrants abroad and supported the vulnerable at home. The recent mapping that IOM conducted shows that the diaspora community are keen to invest in the national development.
So, the challenge for us, again, is a stronger investment and business-friendly environment that has to be created to attract the diaspora resources to our socio-economic investment and development, health, and climate change adaptation.
We need to commend the government for the progress made this year on the migration policy – the Concept of Migration Policy of the Kyrgyz Republic until 2030, was adopted. The is a guiding document that demonstrates the government's commitment to address the causes of migration, to create a safe migration environment. For us, as the United Nations system, together with the UN Network on Migration, will want to continue to support the government, and work with international partners and civil society, so we can achieve all the goals outlined in the migration concept. We can generate the evidence and the policy that is necessary to make sure migration is mainstreamed in government programs and efforts towards sustainable development. We know that migration is a cross-cutting area.
If you look at the agenda, you will not be surprised at the depth of the issues that pertain to migration and the presentations prepared by our many colleagues on issues around food security and nutrition, health, children, gender, youth, demographics, climate change, agriculture, local development, and counter-trafficking. So, it is not just a question of how many family members are leaving and sending money home. It shows that migration is fundamental to our national development and the presentations by my colleagues show the various dimensions of this issue.
Migration is the manifestation of human mobility. From the time immemorable humans continued to move. Look at the history of the Kyrgyzstani society and the various ethnic groups. It is the reflection of the importance of power of human mobility, because these are the forces that brought innovation. So, for us the United Nations family we believe that migrants, diasporas, and their families will be the profound resource for national development. As a result, I want to send a message through you to the Ministry of Foreign Affairs and all our government counterparts. I was hoping to raise this with His Excellency Minister Kudaibergen Bazarbaev about the importance of the Kyrgyz Republic's journey to the Global Compact on Migration. It is a platform for learning and for experience sharing. There is no commitment required of the Kyrgyz Republic. If we have 750,000 citizens outside the country, then it is important for us how they are treated in those countries. This should concern all of us. Anything that we can do to make their lives better should be a priority for us. Platforms created by the global compact – platforms for sharing experience, for discussions, for learning, for promoting safe migration policies across the world. By joining the meetings, even if the governments are not inclined to endorse yet, it is important that we begin participating in those meetings. I will be happy to raise this with the Minister of Foreign Affairs, Chair of the Cabinet of Ministers, and other leaders of government. I hope that the government will look at this issue again. It is extremely beneficial for us in the Kyrgyz Republic that we join these conversations. My colleagues at IOM will provide every support that is necessary to take this issue forward.
Let us congratulate each other on the International Migrants Day. Let us honor them and let us acknowledge their commitments to our society wherever they may be. They maybe unsung, but we know they are visible in our lives. I wish you productive discussion and a happy Internal Migrants Day.
Speech by
Goals we are supporting through this initiative
UN entities involved in this initiative
IOM
International Organization for Migration
Other entities involved in this initiative